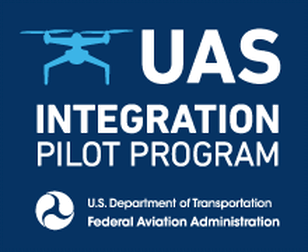 Josh Metz of the Fort Ord Reuse Authority wrote a great blog post about our idea to create a Unmanned Aerial Systems (UAS) Innovation Cluster at the Marina Municipal Airport. This is a repost of the original blog post which can be viewed here.
Context
Information contained in this post represents thinking and organizing around the idea of a Unmanned Aerial Systems (UAS) Innovation Cluster at the Marina Municipal Airport. Much of the content below was included in a formal response to a Federal Aviation Administration (FAA) Screening Information Request (SIR) from parties pursuing a special designation under the Unmanned Aerial System Integration Pilot Program (UASIPP). Since the SIR was tightly space constrained, there was not sufficient space to comprehensively elucidate the concept. Material indicated with an asterisk (*) was not submitted in the final document, but further clarifies and contextualizes key concept components, potential team members and partners. It is our hope, that if the initial submission is deemed sufficient, we'll have further opportunities to make a compelling case for the Marina Airport UASIPP site.
Regional Overview*
The Monterey Bay region hosts a unique combination of physical airport facilities; available research & development/light industrial business parks; ideal year-around climate and geography (proximity to Silicon Valley, the Salinas Valley and the Monterey Bay); rich educational ecosystem and talented workforce; motivated entrepreneurial sector; and well-established regional government, public-private economic partnerships, industry, and academic coalitions; which makes the Marina Municipal Airport an ideal location to host an FAA approved UAS Integration Pilot Program (UASIPP).
The Marina Municipal Airport, aviation identifier OAR, is the newest general aviation airport on the Monterey Peninsula. The airport consists of approximately 845.5 acres of property. Open for public use since 1995, the Marina Municipal Airport is a dynamic and growing general-aviation airport owned and operated by the City of Marina. The airport is dedicated to general aviation, business, light industry and recreation, and is collaborating with the University of California Monterey Bay Education, Science and Technology (UCMBEST) Center to create a dynamic economic development growth center for the Monterey Bay region.
Centrally located near the terminus of the Salinas River at the Monterey Bay, OAR is ideally suited to become a FAA designated UASIPP site. Built in the early 1960's, the airport is the former site of the Fritzsche Army Air Field at Fort Ord, which closed in 1994. Since then, the Fort Ord Reuse Authority, with the City of Marina, and other local land use authorities, has worked to complete the largest military base reuse project in the United States. Central to the reuse is the development of research and development facilities, affiliated with university partners and land owners. The Marina Municipal Airport, includes city owned light industrial facilities, as well as a directly adjacent UCMBEST center, ideal for UAS integration research and development.
In addition to the UCMBEST property, the California State University Monterey Bay (CSUMB) campus is located within a mile of the airport. These higher educational institutions are complemented by a constellation of 11 higher education institutions within the Monterey Bay region including, the University of California Santa Cruz (UCSC), the Naval Postgraduate School (NPS), the Defense Language Institute (DLI), Middlebury Institute for International Studies (MIIS), Monterey Peninsula College (MPC), Hartnell College, Cabrillo College, and others.
Currently, the NPS Center for Interdisciplinary Remotely-Piloted Aircraft Studies (NPS/CIRPAS) is based at the Marina Municipal Airport. The hangar facility provides a 10,000 sq ft floor with offices and work rooms lined down both sides on two levels. The facility includes a machine shop, electronics room and a calibration lab for the upkeep of scientific instrumentation. CIRPAS is a partnership program between the Naval Postgraduate School and California Institute of Technology which employs both manned and unmanned aircraft to support atmospheric and oceanographic measurements.
The Monterey Bay hosts an abundance of cutting edge marine research institutes and facilities including the Stanford, Hopkins Marine Station; the Monterey Bay Aquarium Research Institute (MBARI); Moss Landing Marine Laboratory; and others. These facilities house leading marine researchers conducting advanced marine research and development with interest in effective UAS integration. This combination of assets provide a fertile research and development ground for impactful UAS integration efforts.
In addition to aviation facilities and regional intellectual capital, the Marina Airport location and Monterey Bay region offer several climatic and geographic advantages for advanced UAS integration work. The region is blessed with proximity to the Pacific Ocean resulting in a moderate year-around Mediterranean climate (~14 °C (57 °F) in winter to ~21 °C (70 °F) during the summer), which makes an ideal setting for aviation related R&D. The region is also well-positioned for integration with high technology, agricultural, and homeland security industries.
The Marina Airport is less than a 1 hour drive from the Silicon Valley, the international center of high technology, providing quick access for leading tech firms innovating in the UAS space. Since 2013, Forbes Magazine has hosted its annual agricultural technology conference in the City of Salinas. Known as the "Salad Bowl of the World", the Salinas Valley is home to leading fresh produce and agricultural companies representing more than $8B economy, and making significant investments in agtech innovation and advancement. Locating an advanced UAS R&D capability at the Marina Airport would extend private sector R&D investment and contribute to the region's growing agtech innovation cluster. The Monterey region also has a long distinguished history with military/homeland security functions embodied today in such institutions as the Defense Language Institute, Naval Post-graduate School and Fort Hunter-Ligget, each with established UAS interests.
The combination of physical airport facilities, available research & development/light industrial business park space, climatic and geographic settings (close proximity to Silicon Valley, the Salinas Valley and the Monterey Bay); the rich educational ecosystem and available workforce talent, and motivated entrepreneurial sector, along with well-established regional government, industry, and academic coalitions, make the Marina Airport and ideal location to host an FAA approved UAs pilot integration program.
The Proposal
Introduction
The Fort Ord Reuse Authority (FORA) is pleased to be working with the City of Marina and a host of public and private sector partners to pursue Federal Aviation Administration (FAA) designation as one of 10 Unmanned Aerial System Integration Pilot Program (UASIPP) sites in the nation. Obtaining the designation for the Marina Airport and 3 distinct Monterey Bay Area airspaces, would allow for advanced UAS integration work to proceed at this location. Partner entities would be empowered to contribute technology and safety best practices to FAA goals for safe and secure UAS integration into Federal Airspace.
The nucleus of our UASIPP proposal is a diverse UAS stakeholder group of leading academic research institutions, technology startups, agricultural innovators and energy sector service providers centered at the Marina Airport, supported with an established R&D business park facility and UAS Business Incubator concept.
Airspaces
Three interconnected airspaces, centered on the Marina Airport, are identified in our submittal: Monterey Bay, Marina-Watsonville, and Salinas Valley. The Monterey Bay airspace connects the Marina airport with airspace over the Bay, to provide for safe and secure integration and application development focused on over-water, BVLOS, night-time and point-to-point operations. The Marina-Watsonville Airspace provides for each of these operational areas, as well as Advancing Operations Over Human Beings, with additional focus on energy infrastructure inspection technologies and procedures. The Salinas Valley airspace provides for all of the above with particular emphasis on integration of agricultural operations and wildfire support technologies and procedures.
Initially, the core of operations will be centered within one-mile of the Marina Airport and below 400' AGL, with only local flight path exclusion areas for General Aviation take-off and landing (west and east of the main runway). Our proposal identifies expanded airspace to accommodate advanced stage missions, which will require resolution of known constraints. It is expected that permit acquisition and constraint resolution will be initiated soon after the UASIPP designation is received, and prior to operational demand arising.
Technology Innovators
Our proposal brings together a highly-skilled team of public and private UAS industry innovators to advance safe and secure UAS integration. Team members are organized around seven key-focus areas: Homeland Security, Public Safety, Human Transport, Heavy Lifting, Infrastructure Inspections, Agriculture, and Marine Research. Prior to conducting UAS operations, flight plan clearance with airport traffic managers will be required.
Homeland Security
WhiteFox Defense Technologies Inc. specializes in counter-UAS systems and security for connected devices. DroneFox technology assumes complete control of a UAV and allows for the safe and secure mitigation of drones by authorized users in authorized use-cases.
Percepto produces an all-in-one solution for aerial security, safety and inspection. The company plans to advance night operations through hardware & software integration enhancing safety, capability and accuracies.
AeroVironment is a leading manufacturer of Unmanned Aircraft Systems and Unmanned Aerial Vehicles used for surveillance and reconnaissance by the United States Military and Commercial Industries.
AerobotX produces ObliX, an unmanned airship designed from the ground up for safety, endurance, and maneuverability. By virtue of being lighter than air, the ObliX cannot "fall from the sky". Instead, even in the unlikely event of a severe failure, it would slowly sink to the ground with little risk of causing injury or harm. In the event of a collision, the airship hull will absorb most of the impact energy much like an airbag in a car. These and other features make it ideal for advancing operations over human beings.
Public Safety
University of California at Santa Cruz (UCSC) is developing path-planning algorithms for navigation of single & multiple UAS in complex environments through the use of novel technologies to detect & avoid other aircraft as well as exploration of mitigation techniques to increase UAS detectability to other aircraft.
Transition Robotics (TRI) has developed core technologies that revolve around multirotor UAS with wings that can take off & land vertically, but convert to efficient forward flight. TRI's commercial UAS in development, the JumpShip, is an 8-rotor tail sitter with two wings.
Aerial Fire Tech brings IR+GIS to firefighter cockpits worldwide and streams it in realtime to the ground. The company provides live broadcast of fire video with contextual moving map to firefighters. Aerial Fire Tech will work with our UAS technology partners to address communications challenges involved in advancing safe and secure UAS integration for wildlands fire fighting.
Fruity Chutes manufactures premium-quality parachutes for all types of Rocketry, Drones, Unmanned Air Vehicles (UAV) Parachutes, Multicopter Parachutes, Drones Parachutes and RC Control Aircraft Parachutes, and Balloon Research. Under the UASIPP we propose test BVLOS, night time and avoid and detect capabilities in our UAS hardware with integrated ADS-B data and IR camera technology.
AirSpace Integration purpose is to accelerate the safe integration of drones into the national airspace by testing and validating new concepts in a controlled environment, focusing on detect and avoid technologies, command and control links, navigation, weather and human factors. They will address security and safety concerns associated with UAS operating in close proximity to humans and critical infrastructure by ensuring effective communication between drone operators and government.
Human Transport
Joby Aviation is combining redundant safety systems in a state-of-the-art electric vertical takeoff aircraft to create a new generation of electric personal aircraft. Working with NASA and UAS innovators, Joby Aviation is advancing general aviation aircraft design through electric propulsion and Leading Edge Asynchronous Propellers Technology (LEAPTech) program by using a series of small electric motors & propellers to increase the velocity of the air around the wing. Joby will continue advancing safe & secure operations of its VTOL systems under the UASIPP & contribute data & insights towards a drone powered human transport future.
Heavy Lifting
Camp Six Labs is developing a heavy lift UAS with a planned phased development approach during the program lifespan. Initially, no TFR/NOTAMS needed. Prior to conducting advanced BVLOS flight path & NOTAM notices will be deployed. Phased BVLOS flight plans initially are envisioned over water (Monterey Bay) with a pursuit boat carrying a remote pilot, or overland with a human pilot on board. Camp Six Labs technology has broad economic implications for agriculture, environmental, energy, government, fire, transportation, & delivery industries among others.
Elroy Air develops autonomous aircraft systems featuring rotor-based vertical takeoff and landing (VTOL) & fixed wing cruise flight with hybrid powertrain for long range. Testing & demonstrating a system for detect-and-avoid for larger UAS (> 55 lbs) that permits integration of these aircraft into the NAS. The system in development will enable UAS to detect other aircraft and objects, assess the threat of collision with cooperative and uncooperative aircraft, & maneuver to result in minimum vertical or horizontal aircraft separation.
Infrastructure/Inspections
InspecTools, Inc. uses purpose-built UAS platforms to inspect wind turbines & solar farms. Using custom UAS & sensors, the company provides high-resolution aerial imagery & photogrammetry, LiDAR, NDVI analysis, geo-location & machine vision for sophisticated data processing & mapping. Using UAS, they offer a quick, safe way to get a close view of potential damage to determine where further inspection or repair is needed.
PRENAV, Inc is solving fundamental challenges in robotics around localization, materials, planning, and computer vision in order to build autonomous systems. The company focuses on intelligent and reliable transportation to construction, agriculture, insurance and entertainment entities.
Agriculture
Kextrel. Inc. Developing custom drone solutions for the agricultural market. Focused on addressing challenges with BVLOS. Safety will based on the foundation defined by PrecisionHawk and BSNF Pathfinder recommendations on EVLOS and BVLOS. Findings from all phases will be implemented. This would include working with Pathfinder members such as PrecisionHawk.
University of Maryland Baltimore County (UMBC) research in precision agriculture under the USAIPP would focus on advancing nighttime operations through the use of controlled/calibrated light sources for remote sensing & mapping of vegetation and built infrastructure across anthropogenic landscapes. Resolving UAS integration challenges for agricultural uses would generate new data and insights for the UASIPP, and have economic implications for the agriculture and UAS industries.
Marine Research
Monterey Bay Aquarium Research Institute (MBARI) Advancing nighttime operations. Integration of ADS-B data and Infrared (IR) camera technology in UAS hardware to detect and avoid other aircraft and obstacles in the air and on the ground. Majority of testing will be conducted over open water or sparsely populated areas. Potential of harm to non-participants from impacts is extremely low. Parachute systems with audible alarms would be used to reduce or eliminate potential impact for non-participants.
Technology Support
DJI is a Chinese technology company headquartered in Shenzhen, Guangdong. A UAS manufacturer, for aerial photography/videography, gimbals, flight platforms, cameras, propulsion systems, camera stabilizers and flight controllers. DJI is the world's leader in the civilian drone and aerial imaging technology industry, accounting for 85% of the global consumer drone market. Its drones and technology have been used globally for the music, television and film industries. The DJI R&D Group leaders are based in Palo Alto, CA and is a primary team member on this proposal. The company is offering significant equipment and expertise in support of our proposal including: Aeroscope Remote Identification solution; Drone equipment; Software Development Kit; Policy Collaboration; Custom Geofencing; Educational Outreach; and Access to the DJI User Community. These resources would be deployed to advance the UASIPP goals, make best use of our local resources and realize the broad UAS economic development potential.
Economic Development
Advanced UAS Integration & technology innovation occurring at the Marina Airport would be supported by established local & regional economic development resources including the UCMBEST Center & the Institute for Innovation & Economic Development (iiED) at California State University Monterey Bay (CSUMB). A UAS Business Incubator will be created & leverage the physical facilities at the UCMBEST Center & the established entrepreneurship support services at the iiED Commercialization Center. Initially, the program will make use of existing facilities, support resources & networks. As the program develops, increased expertise & resources will be deployed to realize full UAS economic development potential.
Community Outreach
Every community has (at a minimum) the right to fully understand the ramifications and safety issues of the UAS research that may have potential for citizen exposure. Whether the issue is a state-level concern, a local county/municipality or at the citizen/neighborhood level, effective community engagement requires proactive and solicitous two-way, documented communication. Our team will implement a full-scope electronic, print and social media program to supplement regular public meetings and presentations at council meetings, service club sessions and varying other regional settings to inform and educate the Marina and Monterey Bay community about the program, UAS operations, progress and to receive community feedback and address concerns. The community engagement program will involve current community engagement best practices—including public notices, meetings, city council and airport commission hearings, and digital communications including mailing lists, newsletters, websites and broadcast/print/social media. Following city council direction, staff would make appropriate notice and hold public meetings to inform residents about the program and take feedback. In addition, staff will develop and manage program-specific web assets and employ established social media channels to publicize public comment opportunities. Currently, the City of Marina and the Fort Ord Reuse Authority (FORA) maintain public information outlets at office locations and online, which function as permanent channels for public comment and concern. The City would also work with program Team Members to publicize relevant information and opportunities for input through relative networks.
Economic Impact
Our team is a broad UAS stakeholder group including public and private entities. The majority of our team members are locally or regionally based in the great Monterey Bay/San Francisco Bay Area. These organizations collectively employ over 400 individuals working in support of the UAS industry, and have great growth potential. Our proposal includes creation of a UAS Business Incubator connected with established regional economic development efforts. We provide a summary of the direct economic impacts from team members as requested below:
AerobotX Inc.; Homeland Security & Agriculture; Rural & Urban; 8 employees

Elroy Air; Heavy Lifting & Public Safety; Rural; 12

FORA; Economic Development; 16

MBARI; Marine Research; Rural; 20

University of Maryland; Agriculture; Rural; 20

UCSC; Public Safety & Economic Development; Rural & Urban; 40

PRENAV, Inc.; Infrastructure/Inspections; Rural & Urban; 25

WhiteFox Defense Technologies Inc.; Counter-sUAS & security; Rural & Urban; 24

Percepto; Counter-sUAS & security; Rural & Urban; 12

Transition Robotics; Homeland Security & Agriculture; Rural & Urban; 6

Fruity Chutes; Public Safety; Rural & Urban; 4

DJI; Public Safety, Infrastructure/Inspections, Agriculture, Marine Research; Rural & Urban; 40

Joby Aviation; Human Transport; Rural & Urban; 35

CSUMB; Economic Development; 20

Camp Six Labs; Heavy Lifting; Rural; 8

InspecTools; Infrastructure/Inspections; Rural & Urban; 6

Aerovironment; Public Safety, Inspections, Agriculture; Rural & Urban; 100

Aerial Fire Tech; Public Safety; Rural; 4

Kextrel; Agriculture; Rural; 3

AirSpace Integration; Economic Development; 2
Capital Needs
Public sector capital needs for this proposal are initially covered with existing facilities and operating budgets. Marina Airport facilities capital costs are included in the City's annual budget covering fencing, grounds, hangars, tarmacs and office buildings. There is vacant space available for lease by participating private companies. The city also has 75-acres of airport land designated for future business park development. Directly adjacent, UCMBEST has an existing 39,000-square-foot office building including meeting rooms and leasable office space (maintenance cost of which are included under the UCSC annual budget). In addition, roads, power and sewage infrastructure are already installed to serve the UCMBEST 90-acre master-planned research-park development as future demand grows. The CSUMB iiED Commercialization Center is operational on the nearby CSUMB campus. This facility—housed within the state-of-the-art 58,000-square-foot LEED certified Joel and Dena Gambord Business and Information Technology Building—provides program participants access to facilities, expertise and networks to support realizing UAS economic development potential.
Private-sector program participants each bring their own private funding obtained through private and venture sources. These team members are expected to deploy their resources as needed and capitalize on existing revenue streams (and any private or public funding sources they pursue) to provide their individual capital needs. The economic development/UAS Business Incubator component of this proposal will also be a resource in the event additional funding sources are needed, and will pursue public funding opportunistically.
Privacy
The City of Marina is committed to ensuring the collection, use, retention or dissemination of information about individuals through the use of any technology, including UAS, complies with the Constitution, and Federal law, regulations, and policies. Participants must comply with all relevant State and National privacy regulations and follow established voluntary UAS best practices for privacy, transparency and accountability. Privacy policies and best practices will be continually monitored to ensure local implementation is current.
To the extent practicable, the City will ensure that UAS operations do not intentionally collect personally identifiable information (PII) (imagery, phone, wireless, and any other electronic emissions that might contain PII) unless authorized by law and necessary to accomplish UASIPP goals. All individuals involved in the operations of UAS will be trained and supervised to ensure compliance with this policy and any specific privacy risk mitigation strategies. Participants will provide advanced public notice of planned flight operations through local media or a publicly posted website.
As of submission, references for State and National UAS Privacy regulations and best practices include:
Department of Transportation UAS Privacy Policy www.transportation.gov/sites/dot.gov/files/docs/UAS%20Privacy%20Policy.pdf,

NTIA Voluntary Best Practices for UAS Privacy, Transparency, and Accountability www.ftc.gov/system/files/documents/public_comments/2016/10/00008-129242.pdf,

USDHS Best Practices for Protecting Privacy, Civil Rights & Liberties in Unmanned Aircraft Systems Programs www.dhs.gov/sites/default/files/publications/UAS%20Best%20Practices.pdf
Proposal Advocates:
City of Marina

Congressman Jimmy Panetta

University of California, Santa Cruz

University of California, Merced – Center of Excellence for UAS Safety

University of California, Agriculture & Natural Resources (UCANR)

Western Growers Innovation Center

California State University Monterey Bay

Pacific Gas & Electric

Naval Post Graduate School

Defense Language Institute

Presidio of Monterey

Sunpower

Vestas